DIGITAL SUBSCRIPTION LOG IN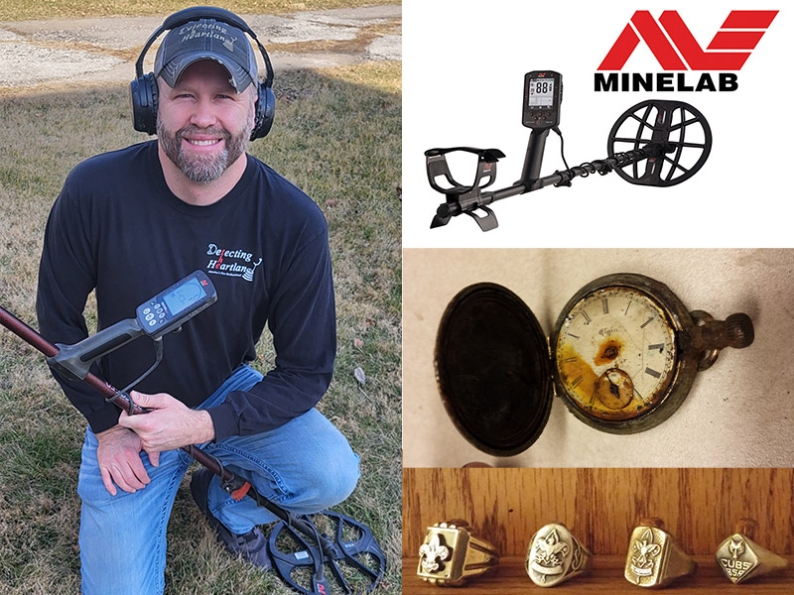 Iowa Detectorist Makes Great Finds with Minelab Equinox 800
Story by Rich Creason
As Casey Oberreuter and his wife Mindy were winging their way to Scotland for a dream-of-a-lifetime metal detector hunt, he thought back eight years to the first time he used a metal detector. Casey, his wife, and his dad tried out his dad's cheap garage sale machine which didn't work very well. They hunted all day and only found assorted junk and one Memorial penny. Nevertheless, he instantly loved the thrill of the hunt and the chance to "save history".
Shortly after, Casey found a TV show called "Diggers" and began watching it. He went out and bought Mindy a new metal detector for Christmas. It wasn't long before he was using her machine more than she was, so he bought his own detector and was completely hooked.
Casey primarily hunts yards and occasionally some fields. He says it's easier to get permission for yards because many fields have out-of-state owners and it's hard to locate and contact them. When he approaches a yard owner, he always has a clean appearance, smiles, and introduces himself. If he lives nearby, he mentions that, and if he has detected a neighbor's yard. Once a conversation is started, Casey asks if he can detect their property. Finally, he asks if their family has ever lost anything important in the yard which he could look for while hunting.
Casey was also queried about some of his favorite finds. His response was, "I have found many neat items. I have four Boy Scout rings, all found the same summer, all in different yards. I helped a homeless shelter carry in a bunch of food and milk because I was detecting the yard next to them. They said I could hunt their yard too. I found the Scout ring with a big onyx stone in there. None of the property owners knew who the rings belonged to."
He found an intact pocket watch along some old train tracks, which ran near his own yard and had been turned into a walking trail. At another spot in the yard of an 1800's house site in Muscatine, Iowa, Casey found a complete harmonica eight inches deep. Another ring find was a heavy 18K gold custom made ring in the shape of a horse saddle. The homeowner had no idea who it belonged to. He gave the man cash for half the value of the ring for allowing him to hunt his yard.
Casey is often hosted by detectorists in other states. He recently visited Indiana and hunted with Brant Jones and Sonya Harshman, both members of the East Central Indiana Treasure Hunters club. Brant has permissions on hundreds of acres of farmland and usually wins Find-Of-the Month at the ECITH meetings. Sonya has uncovered a gold coin on one of her farm fields.
As soon as he started detecting in earnest back in 2014, Casey and his wife started a Facebook site called Detecting the Heartland. This is a 501c3, non-profit organization. They are just a few hundred members short of 10,000. As soon as they reach that goal, they are giving away an Equinox 600. DTH puts on a huge hunt every year. They rent out entire camps for a weekend, many times Scout camps or something similar. They only charge $100 per entry, which includes a seeded hunt, kids hunt, catered lunch, a night pinpointer hunt, raffles, open hunting of the camp, and much more. For their upcoming spring hunt at a Scout camp in Illinois, they sold out 200 adult spots in 20 minutes.
After their hunt each year, DTH donates $1,000 to local charities. Last year, the donation went to Helping Hannah's Heart Foundation for kids with congenital heart defects. This year the funds will go to help Juvenile Diabetes Research Foundation. They have also raised over $20,000 for other charities. This includes members who have had house fires, members with medical bills, an off-road wheelchair for a DTH member, fallen police officers' families and many more. Although their name represents the Midwest, they have members from all over the world.
Casey and Mindy were invited to join a DTH member to hunt with him in Scotland. He has thousands of acres of property there. They found coins from the 1500's, 1600's, 1700's, 1800's, 1900's, and modern coins. Mindy found a clothing pin from the Bronze Age, and Casey found a boot spur from medieval times. Their host found a solid gold Mourning Brooch from the Georgian Era. They found numerous other artifacts from centuries long past. They also got to enjoy their first "Cuppa Tea".
When asked what he likes best about metal detecting, Casey had this to say, "The thing I enjoy about this hobby above all else is being able to return items. The feeling I get by returning something goes above and beyond even finding it in the first place. I've returned many lost rings over the years. I've also returned a military piece to the widow of the gentleman who lost it over 40 years ago."
The thing he regrets most is not having more time to spend in the field with friends and family finding treasure. • (www.minelab.com)
OUR STORY
To the treasure hunter, the gold prospector, the protector: We know your quest.
Minelab detectors are engineered for discovery. In fact, our R&D team is 50 engineers strong. That's what makes our hand-held metal detection technology the best in the world. It has been for 35 years. We don't plan to surrender that title anytime soon.
We welcome the challenge of 'difficult' terrain. Magnetic minerals, iron-rich soil and deep water are no match for our innovation. You will see deeper with a Minelab detector than any other on the market.
Minelab's dealer network and operations span the globe: Australia, Europe, Middle East, Asia and the Americas. Our dealers are adventurers, hunters and prospectors just like you. No matter where you detect, they are ready to answer questions, suggest sites and celebrate your successes.
Every product that bears the Minelab badge is built rugged and precise. We're ISO 9001 Certified and we manufacture to military-grade standards. It's why military forces around the world trust our detectors to locate life-threatening landmines. Miners in Africa make life-changing gold discoveries with our detectors. And treasure hunters worldwide use our detectors to unearth history, from rare relics to ancient coin hoards. We know your quest and our detectors are precisely engineered to find the fortune you seek.
With Minelab, you'll find performance is everything.