DIGITAL SUBSCRIPTION LOG IN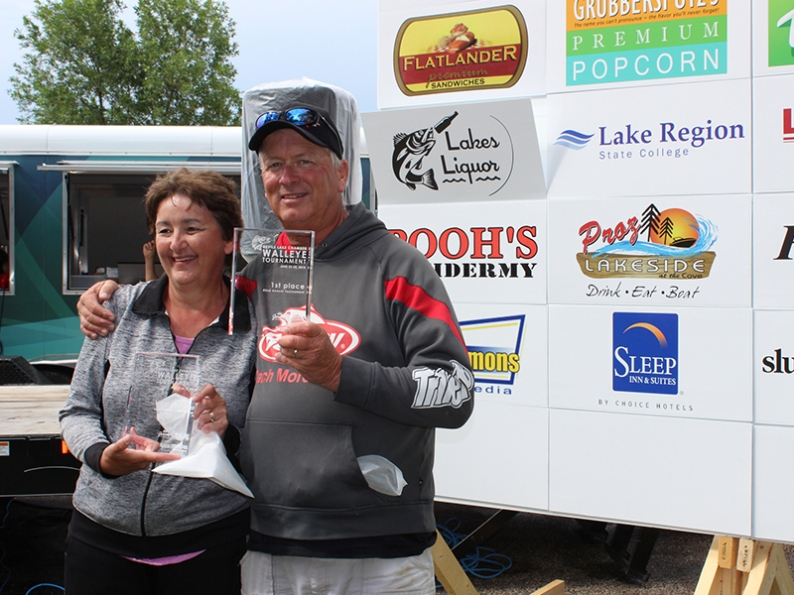 The Tournament Masquerading as a Family Reunion
by Devils Lake CVB
DEVILS LAKE, N.D. – May 24, 2019 - Friendly competition best describes the Devils Lake, North Dakota Chamber of Commerce walleye tournament. Set for June 21-23, the event ties in and provides something for everyone throughout the community.
Most, of all, it guarantees a lake with walleyes potentially lurking anywhere from the deep main-lake to shallow, weedy shorelines, and like Johnnie Candle, tournament MC said, "If it looks and smells like a walleye spot, it probably is."
He also knows that many anglers count the Chamber tournament as a "Family reunion or homecoming." Johnnie said, "They head from Montana, Minnesota, Bismarck, Fargo and all corners of North Dakota to catch up with family and friends, and fish the lake they grew up loving."
Walleyes are the targets, with a $6,500 guaranteed first prize. Northern pike, white bass and perch also pay well. In fact, for those seemingly out of the walleye race on day one, the very popular day two pike tournament is an added bonus.
Last year's winners, Dave and Rendy Randash from Dilworth, Minnesota, also have a cabin near Devils Lake. They will go out as boat number one as a result of winning, but they know the spot they will seek remains an unknown. Dave said, "Fishing memories never seems to work." They found a small underwater rock finger, drove their tiller Lund to the spot, anchored and drifted slip bobbers over-and-over-and-over the tip.
"We crushed the walleyes between five and nine pounds. Our presentation was simple, a plain hook and a leech below a slip-bobber," he said. During the course of fishing all last year, the couple located dozens of spots to fish with their sonar side scan and down scan features. "There are rock fingers all over the lake similar to where we fished. Our goal is to find a few key spots and camp on them. Patience is the key," he said.
Other patterns he will investigate include the walleyes 25 to 40 feet deep with chubs or by pulling bottom bouncers. He did locate walleyes in deep timber (old flooded trees), and will also cast Moonshine Shiver Minnows and Rapala Jigging Raps to cover water while slip-bobbering. "We will always fish this tournament," Dave said, "It's one of the best run and they treat us anglers right. I encourage couples, parents and kids, fishin' buddies, and others to enter and enjoy a great time on the water."
Fishing occurs Friday and Saturday. Sunday, June 23 will only be a competition day if either Friday or Saturday is "weathered out."
Community activities include a special youth seminar following the final weigh-in at Grahams Island State Park. This is the place to learn where the guys and gals have been fishing and what lures work best as they share their tricks and secrets from the stage.
Supported by many businesses like the Proz End of the Line and Proz Lakeside award of $500 for the largest walleye of the tournament. The largest daily pike is worth $250 from NDTC and Horizon Financial Bank. The same amount goes to the team with the largest white bass daily from Blue Sky Realty and LaMotte's Paint and Glass. Known worldwide as one of the top perch lakes in the world, the biggest perch daily is worth $100 from Blake's Marine and Nikolaisen Land Company. Pooh's Taxidermy will mount the overall largest walleye and pike.
State Farm Insurance-Kevin Vistad awards the highest placing mixed couple team with $250. Another $250 goes to the heaviest one-day weight from Klemetsrud's Plumbing & Heating. Slumberland's Hot Seat award is worth $400. The Power-Up award is also $400 from Blake's Marine. Seventh place wins an extra $200 from Real Estate 7. Lake Region State College honors 43rd place in recognition of the 43rd annual Chamber walleye tournament.
Entries are being accepted, with an entry fee of $275 per team. When the tournament limit of 125 is reached by June 14, an additional $1,500 cash will be added to the purse. Enter by contacting the Devils Lake Chamber at 701-662-4903. More details are available online at devilslakend.com.
Day Two Pike Shootout entry is $50, with 50 percent of all team entries going to first; 35 percent to second and 15 percent to third place.
The Devilslakend.com website is updated daily with fishing reports, guide services catering to outdoorsmen and women, water conditions, fish-cleaning stations, tournaments, area motels and resorts, businesses, community activities, upcoming events, dining, casino, and much more. Talk to a Devils Lake Tourism or Chamber representative at 701-662-4903.
Photo Attached: Dave & Rendy Randash, Dilworth, MN with their winning trophies from the 2018 Chamber Walleye Tournament.
####
About Devils Lake, North Dakota
Devils Lake is a natural lake that has grown from about 40,000 acres to nearly 160,000 acres in the past three decades. Devils Lake offers a year-round open fishing season for perch, walleyes, northern pike and white bass. Resorts and guide services cater to outdoorsmen and women. In North Dakota 25 percent of out-of-state fishing licenses are sold in Devils Lake.