DIGITAL SUBSCRIPTION LOG IN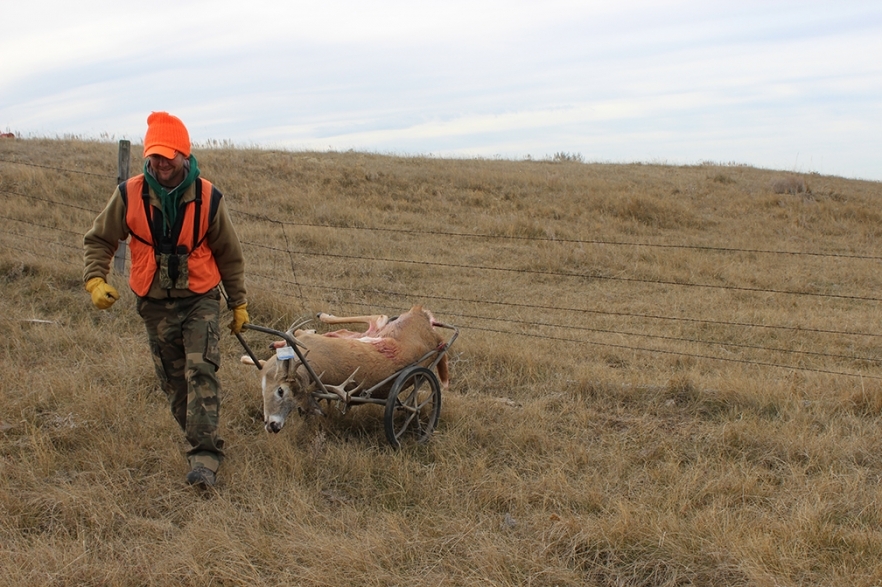 2015 Deer Season Set, Online Apps Available
by NDGFD
Wednesday, May 6, 2015
North Dakota's 2015 deer season is set, with 43,275 licenses available to hunters this fall, 4,725 fewer than last year, and the lowest number since 1978.
Jeb Williams, wildlife chief for the State Game and Fish Department, said deer populations remain well below management objectives in most units, and continuing a conservative management approach is needed to help with recovery efforts.
Any-antlerless (down 2,650 from last year) and any-antlered (down 1,150) licenses make up the majority of the reduction, while antlerless whitetail (down 800) and antlered whitetail (down 650) account for the remainder.
On a positive note, Williams said the mule deer population in the badlands increased for the third consecutive year, with numbers showing the spring mule deer index is up 24 percent from last year.
However, as was the case the past four years, there are no antlerless mule deer licenses available in units 3B1, 3B2, 4A, 4B, 4C, 4D, 4E and 4F. This applies to regular gun, resident and nonresident any-deer bow, gratis and youth licenses.
The number of licenses available for 2015 includes 1,875 for antlered mule deer, an increase of 525 from last year; 828 for muzzleloader, down 104 from last year; and 187 restricted youth antlered mule deer, an increase of 53 from last year.
North Dakota's 2015 deer gun season opens Nov. 6 at noon and continues through Nov. 22. Online applications for regular deer gun, youth, muzzleloader, and resident gratis and nonresident landowner licenses are available through the Game and Fish Department's website at gf.nd.gov. Also, paper applications will be at vendors throughout the state by mid-May. The deadline for applying is June 3.
State law requires residents age 18 or older to prove residency on the application by submitting a valid North Dakota driver's license number or a North Dakota nondriver photo identification number. Applications cannot be processed without this information.
Gratis applications received on or before the regular deer gun lottery application deadline (June 3) will be issued an any-legal-deer license. As per state law, applications received after the deadline will be issued based on licenses remaining after the lottery – generally only antlerless licenses remain.
Total deer licenses are determined by harvest rates, aerial surveys, depredation reports, hunter observations, input at advisory board meetings, and comments from the public, landowners and department field staff.