DIGITAL SUBSCRIPTION LOG IN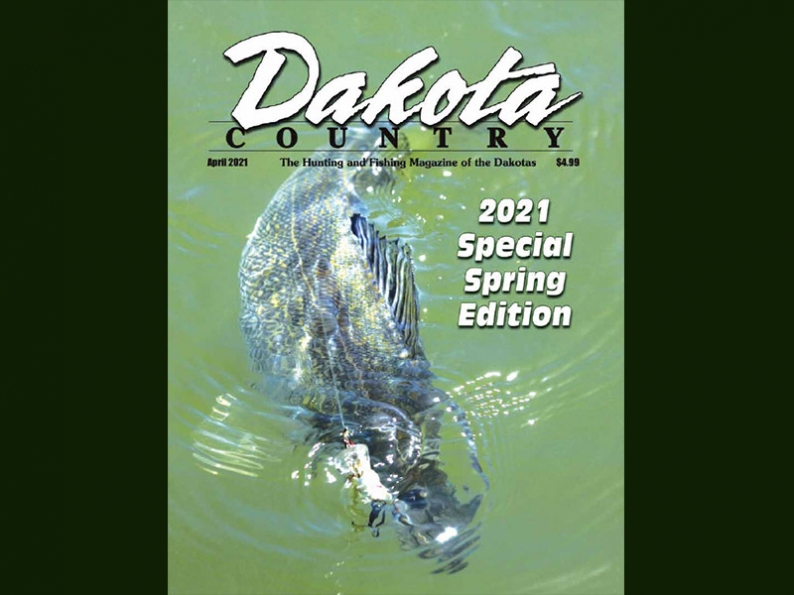 April Special Spring Edition
Have The Hunting & Fishing Magazine of the Dakotas delivered!
Print and Digital version available
Call 1-800-767-5082 / (701) 255-3031 or subscribe online at www.dakotacountrymagazine.com
Dakota Country magazine makes a great gift!
Here's a look into the April Special Edition
FEATURES
North Dakota: A visit with the fisheries chief
South Dakota: A visith with the fisheries adminstrator
Slot Limits: Why or why not? by Doug Leier, NDGFD
Devils Lake Fishing Update
Anatomy of a Passionate Fisherman
The Myth of Lure Color by Tony Dean, reprinted from Dakota Country magazine June 2008
Interest in Fishing on the Rise DC Staff Report
Finding big fish in small water by Chuck Dieter
Signups available for South Dakota's James River Watershed Program
North Dakota's most popular fishing waters DC Staff Report
The life of walleyes in the Dakotas by Nick Harrington
ND Game/Fish violations tallied for the year
South Dakota Nest Predator Bounty Program Appoved
Killing for Antlers: A study in poaching by Patricia Stockdill
Trout Management in North Dakota
Spring Pike: Big Fish TIme
Staying on track with Mountain Lions by Doug Leier, NDGFD
Protecting Precious Prairie Trees Against Borer
Big walleyes placed in state waters at stocking time by Doug Leier, NDGFD
A final thought by Terry Terrill: A whole new game
DEPARTMENTS
Dakota Country notebook: Breaking the walleye addiction by Bill Mitzel
Dakota Kids
North Dakota/South Dakota Whopper Report
Classifieds
New Products
Look Who's Talking
Letters-to-the-Editor
South Dakota Glacial Lakes Report: Outlook good for 2021 fishing season by Brian Blackwell; Fisheries Biologist, Webster South Dakota
Missouri River: 2021 runoff forecast remains below average by USACE
Dakota Recall - A Look Back (April 2003 - Cormorants competing with anglers for fish; courtesy of Lake Region Anglers Newsletter, Devils Lake, ND
Badlands Watch: Conservation, politics and the Bureau of Land Management by Jim Fuglie
Dakota Digest
COLUMNISTS
A busy season ahead by Jon Mitzel
From the editor by Bill Mitzel
Happy and Free; Trying to make sense of nonsense by Bill Antonides
Fishing off the beaten path by Jason Mitchell
Cover Crops for Conseravation by John Pollman
Spring's Amazing Opportunities by Nick Simonson
Fish Recipes for Spring by Dell Hankey
Boats for Today by Mort Bank
And much more!