DIGITAL SUBSCRIPTION LOG IN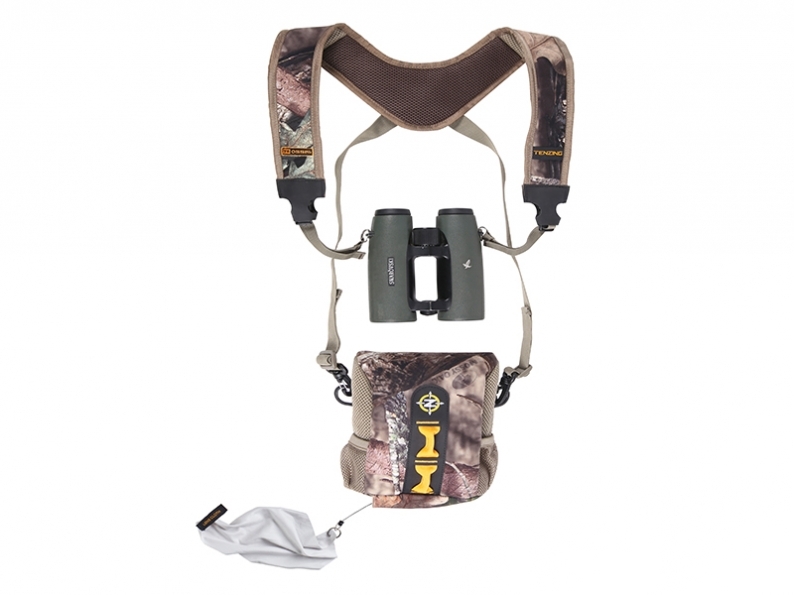 Cover Your Glass
by DC Staff
Top-performing Tenzing TZ OSS16 Optics Suspension System now available in Mossy Oak Break-Up Country
Plano, IL (2016) – It was time for a better binocular harness. Tenzing delivered it last year in form of the TZ OSS15 Optics Suspension System. Now it's even better, available in 2016 in the honest and hardworking Mossy Oak Break-Up Country camouflage pattern.
The new Tenzing TZ OSS16 Optic Suspension System in Mossy Oak Break-Up Country is the finest and best performing binocular harness ever made, providing premium-quality comfort and premium-quality protection for your optics investment.
The heart of the TZ OSS16 Optic Suspension System is its 5.5" x 7.5" x 2.5" 500 Denier Nylon binocular pocket. It's covered at the top by a stiffened protective flap for easy one-handed access, and is large enough to accept most roof prism binoculars up to 10 power with 50mm objective lenses. The sides of the pocket are breathable to prevent fogging and feature additional mesh pockets to hold pen-style cleaners, wind detectors, hunting calls or other small items.
Wearer comfort is a hallmark of the Tenzing brand. Our packs are engineered and constructed to carry incredible loads without slowing you down. The TZ OSS16 Optic Suspension System continues this legacy, combining ergonomic design with high-tech materials to create shoulder straps that move with the hunter and distribute the weight of heavy, quality binoculars efficiently. Fully-adjustable straps keep the binocular pocket close to the body to avoid snagging without pinching or binding.
Quality Tenzing touches throughout the TZ OSS16 improve comfort, performance and durability. Impact-resistant buckles are covered in Hypalon material to minimize noise, while a built-in retractable cleaning cloth provides additional utility. Of course, shoulder straps and the binocular pocket are finished in Mossy Oak Break-Up Country for concealment in a wide variety of hunting terrain.
KEY FEATURES & SPECIFICATIONS
• Model 761682 / UPC 76169-7
• Designed to fit most roof prism binoculars
• High performance 500 Denier Nylon construction
• Padded contoured breathable shoulder straps with built-in Comfort Stretch elastic system
• Water resistant 5.5" x 7.5" x 2.5" binocular pocket with breathable side panels
• Two additional side pockets on bino pocket for calls or wind detector
• 1-inch adjustable webbing straps to keep binos and pocket tight to the body
• ½-inch side release buckles allow binos to detach from suspension
• Stiffening spine across top keeps binos clean and protected
• Hypalon covered buckles to minimize noise
• Tethered Lens Cloth Tucks Neatly Into Base
• MOSSY OAK BREAK-UP COUNTRY camouflage
• MSRP $79.99 / MAP $69.99
In addition to Mossy Oak Break-Up Country, the TZ OSS15 Optics Suspension System is also available In Kryptek HighlanderTM camouflage (model 761781).
Stop worrying about your binoculars. The premium TZ OSS16 Optics Suspension System provides top-of-the-line performance and protection for your valuable hunting binos, now available in the perfect concealment of Mossy Oak Oak Break-Up Country. Go further. Hunt longer. And cover your glass. Learn more at www.tenzingoutdoors.com.
About Tenzing ™
Tenzing's line of innovative, high-tech, high performance hunting packs are engineered and built to help hunters go farther, stay longer, and comfortably carry incredible loads in and even bigger ones back out.
Tenzing packs are constructed from the finest materials available, including the world's strongest fiber, Dyneema®, and designed to be the lightest, most rugged, best organized and most versatile packs on the market. Tenzing packs are fully adjustable to result in a perfect fit for any hunter.
Combining his life-long passion for the outdoors with a relentless desire to be the best at his craft, Jay Robert is the soul and spirit behind the Tenzing brand. A company of hunters who listen to other hunters, Tenzing pursues innovation through real world product feedback from one of the hardest-working hunting pro and field staffs in the industry.
The ever expanding Tenzing product lineup includes carbon fiber frame packs, full-sized backpacks, lightweight day packs, lumbar packs, archer's packs, women's-fitted packs, turkey packs, upland bird packs, waterfowl blind bags, high-performance bow cases, gun cases, optics harnesses and related accessories.
Tenzing products have received numerous recognitions for innovation and quality, including a prestigious Field & Stream Best of the Best 2012 Award for the Tenzing TZ 2220 and a Gray's Best Award in 2015 for the Tenzing TP14 Turkey pack.
Learn more at www.tenzingoutdoors.com.