DIGITAL SUBSCRIPTION LOG IN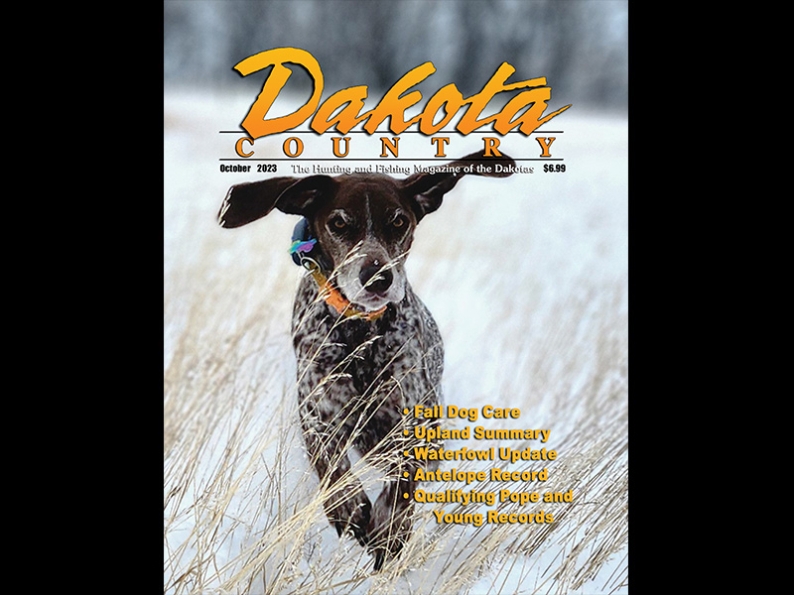 Dakota Country Magazine October 2023 Edition
Dakota Country Magazine October 2023
Features
North Dakota CWD Proclamation -- Some changes hunters will want to know.
North Dakota Upland Bird Summary -- Bird numbers show significant increase.
Trophy Antelope Makes Record Book -- It took many years, bit it's finally official by Patricia Stockdill
Qualifying Pope and Young Records -- The process is detailed if want to enter a trophy by Wayne Muth
Duck Brood Counts Up -- Good water conditions produced more offspring than last spring.
Hunting South Dakota Pheasants -- Pheasant memories can last a life forever in this place by Tori J. McCormick
Donating Wild Game -- Game donations show nice increase over last year by Ron Fowler
Waterfowl Quiz -- Interesting information for waterfowl enthusiasts by Chuck Dieter
Dog Care -- A lot can go wrong out there. Being prepared is vital by Doug Leier
Dakota Country Notebook; Annual Road Trip -- A fall trip through the best of prairie country by Bill Mitzel
Departments
Letters to the Editor -- This thing aboug pheasant hunting by Jerry Kuklis, Duluth, MN
-- Save the Horses by Derrick Admunson, Fargo, ND
Free dogs and pickups -- There are just certain things you need, some you don't by Bill Antonides
Up for the challenge -- The hunting journey is a huge part of the end result by Jason Mitchell
Partnerships are kep to public hunting -- Open hunting land comes with the consent of groups, landowners and citizens by John Pollman
Favorite Fall Recipes from Peggy Hankey
Out of the trough (again) -- A positive upland season ahead, but habitat will or won't sustain it by Nick Simonson
South Dakota Glacial Lakes Report -- Keeping anglers in the game by Brian Blackwell, Fisheries Biologist, Webster, South Dakota
Missouri River Report -- Good rain, but reservoirs still catching up. Releases consistent with average fall pattern by USACE
Dakota Recall -- A look back to October 2004 -- More than 100 dogs die on pheasant opener.
Look Who's Talking
Dakota Digest
Gadget Corner -- More new products from ICAST, The World's Largest Sportfishing Trade Show by Mort Bank
Dakota Kids! Photos of kids enjoying the outdoors are encouraged and welcome on this page. Please email kid photos to mitzeljon@gmail.com
North Dakota//South Dakota Whopper and Catch & Release Reports
and much more!
Christmas Gift Subscription available and specially priced! Call 1-800-767-5082 or 701-255-3031 •