DIGITAL SUBSCRIPTION LOG IN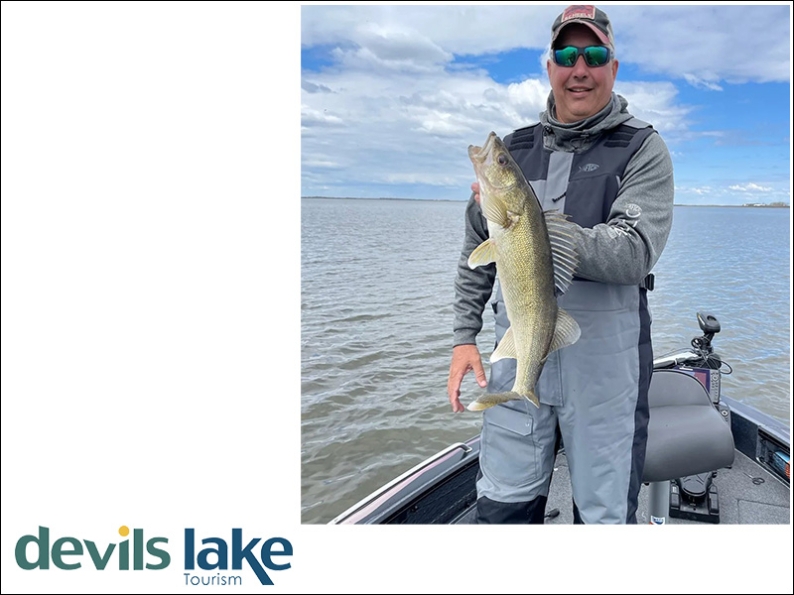 Devils Lake Good Fishing Now Even Better in Coming Weeks
Devils Lake Tourism -- Susie Kenner
The Devils Lake open-water fishing season kicked off to rave reviews. Rising water levels (projected 4-foot rise) created thousands of new "hot spots" for walleyes.
Devils Lake, North Dakota is known for its abundance of walleyes, walleye guide services, dozens of resorts, lodges and motels, and a community that lives and breathes walleyes. It may be the official language. At least that's what regulars and first-timers talk when on the lake or only dreaming about this walleye mecca.
Visitors are startled to learn that the lake now covers approximately 165,000 acres. That's equal to 150,000 football fields. The lake consists of many sections separated by bridges with bays reaching back into the prairies. Walleyes love the rising water and call many of these new locales "home."
So do fishermen. They cast lures or slip-bobber these new-found waters and are now finding walleyes tucked up into the shallow and WARM water. Northern pike, another willing Devils Lake participant, inhabit the same areas. White bass may also be ready to attack here or in about any depth.
Guide, educator and walleye champion Johnnie Candle advised newbies on the lake to exercise caution. The mid-lake or mid-bays are traditionally safe for boating. But, when aiming for the back bays or shorelines, use common sense and slow down. Be mindful of your electronics; keep eyes wide open. Oh, Candle said, "Slow down!" One of the tricks to his guiding success is watching his screen and when he finds fish deeper, he stops and fishes them.
In his 40 years of on-water experience, Candle summed up Devils Lake saying, "It's the same as any natural lake, only different." Refining his thinking, he said Devils Lake holds weeds, rocks, sand, transitions and man-made structures like roadbeds. "Submerged roads are like any reef, only longer and straighter. An old (now underwater) stock pond is a deep hole with rocks on the sides. Shorelines are shorelines," he said.
June means shallow-water fishing. Back bays warm quickest. As the month moves along the main-lake warms. "A person could fish in less than 10-feet all month," Candle said with decades of time on the lake. "Jigs with plastic trailers or crankbaits dominate in June. Slip-bobbers with leeches also take their share of fish."
In July, walleyes move to deeper edges of flats or isolated rock humps. He can be seen trolling bottom-bouncers and spinners with crawlers or GULP! Or, he fishes vertically.
Candle also directs the Chamber Walleye Tournament, an event with 40-plus years of memories built into it. This year, the event will again be a homecoming for friendly competitors. "Contestants relied on the eastern portions of the lake in recent years. With higher water, the old haunts to the west could come back into play," he mused.
The tournament that many call their favorite time on the water occurs June 24 – 26. Based at Graham's Island State Park, a $6,500 first prize is guaranteed. Better yet -- if it fills with 125 boats by June 16, the payout increases by $1,500. The biggest walleyes each day are worth $500 for first; $250 for second and $250 for third. The largest walleye will be mounted by Pooh's Taxidermy. A host of additional prizes are waiting to be netted.
Local sponsors make this tournament bigger and bigger each season. A banquet meal occurs at the Rules and Registration meeting June 24. Lunches are provided for all boats daily. Following Saturday's weigh-in, Deutz Fishing promotions will conduct a free youth fishing seminar. The first 50 youngsters will receive a rod and reel. Entry forms, tournament details, photos and past winners are featured on the Chamber website.
DEVILSLAKEND.COM is the best source for the Chamber Walleye Tournament, guide service listings, up-to-date fishing and access/launch reports, water levels, lodging at motels, cabins, resorts, casino, plus community and lake activities and much more.
Website Link: https://devilslakend.com/blog/2022/05/31/devils-lake-good-fishing-now-even-better-in-coming-week