DIGITAL SUBSCRIPTION LOG IN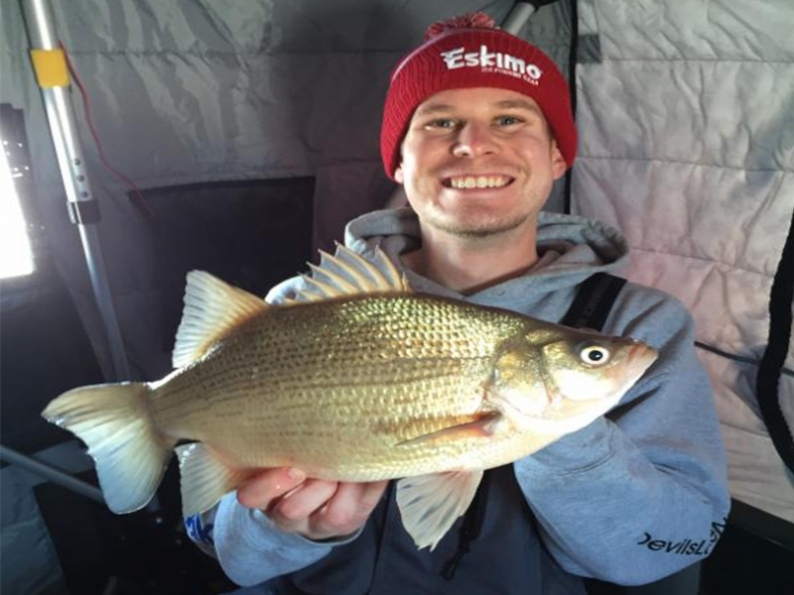 Don't Forget Northern Pike and White Bass at Devils Lake
by Devils Lake CVB
Don't Forget Northern Pike and White Bass at Devils Lake
Devils Lake in north-central North Dakota is the lake that never sleeps. It is also the lake that draws anglers from near and far to catch primarily either perch or walleyes. Or, walleyes and perch. It is open for fishing year-round, but also offers trophy fishing for two species that don't get much respect - white bass and northern pike.
If TV's "Shark Week" was filmed in freshwater, it would be on massive Devils Lake. Area fishers biologists report that test netting shows more pike in the 28 to 34 inch range than ever before. Trophy anglers catch fish from 15 to 20 pounds regularly, and the chances of meeting up with a 10-pounder are reasonable on any given day.
White bass are targeted during open water, but ice fishermen are seeing success, with the 2012 state record (4-pounds, 10-ounces and 19 inches long) in danger of being broken from now to spawning season. The big females will be loaded with eggs, adding more weight.
Under the ice, white bass feed, and it's a matter of locating them. Some of the best fishing guides in North American ply their trade on the lake, and are not bashful about sharing white bass hotspots. Check with the local bait shops, also. For instance, the north end of Six Mile Bay has been producing some white bass recently. They have been deep, with the 30-foot depth range holding some.
Anglers fish for white bass the same way they do for perch or walleyes, and even when white bass are being targeted, other species also bite. The reverse is also true. The key is when the first white bass comes flopping onto the ice, get the same lure/bait down quickly. Schools of white bass move constantly, but a jigging spoon dropped into their midst may keep them under the hole.
White bass are tasty. The best policy when cleaning them is to remove all "red" from the skin-side of each fillet and completely remove the lateral line. What's left are some pure-white fillets, and coming from cold water, they are a delicacy.
Pike (aka sharks, gators, slimers, snakes, toothy critters, water wolves) are most active in winter. They feed voraciously. They can be caught in five feet of water or 45 feet deep. Jigging spoons tipped with a minnow head will catch pike. So will a "dead-stick" with a bobber and minnow hanging on the hook, or a tip-up. In North Dakota, each angler may fish with four lines while on the ice.
Pike fishing and kids go together. Pike provide action and kids love yanking them from the depths. With five-fish limits and 10 in possession, the pike picklers and eaters will find enough fish to feed an army. Todd Caspers, area biologist said, "Don't be shy about keeping pike for the table. Here on Devils Lake we have generous limits."
There are no secret hotspots, but some starting places for pike might be over humps, alongside weed beds, along shoreline breaks (where depth drops from 5 to 10 feet, for instance), or over old roadbeds. These are fish that can be caught just a short walk from shore.
Click here for a pike cleaning video that shows how to remove the y-bones for a delicious fillet.
Find current Devils Lake ice conditions, fishing reports, and information at devilslakend.com. This site features listings of guide services, the 18 resorts with cabins, 679 motel rooms and a new motel going up right now, casino accommodations, a lake map, fish cleaning stations (including the indoor, modern facility south of Ed's Bait Shop on Hwy 20), plus regional outdoor and indoor activities for all ages and all interests.