DIGITAL SUBSCRIPTION LOG IN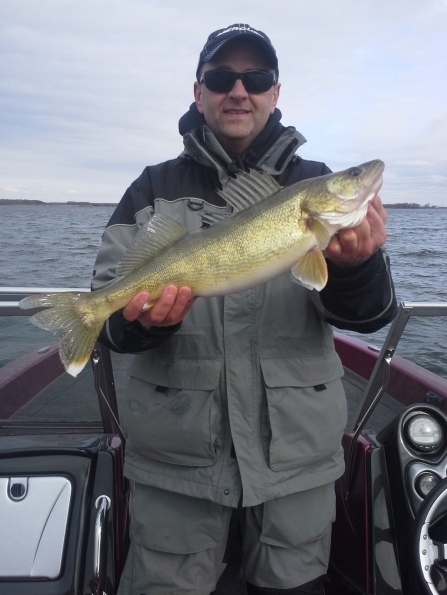 Fishing Experts Offer Early Season Advice
by Devils Lake Tourism
A relatively mild winter with almost no snow is a rarity in North Dakota. But, that's what occurred in the Devils Lake area this past winter. In a sense, it's good news because according to the manager of the Devils Lake Basin Joint Water Resources Board Jeff Frith, "We're not even expecting any significant run-off this spring."
The fishing experts predict this will impact early ice-out fishing. They also advise Devils Lake anglers to concentrate on different areas this season. The lake has naturally expanded from about 40,000 acres in 1990 to approximately six times that size, inundating 140,000 acres of rich farmland and all the potholes, swamps and wooded ridges that used to hug the original shoreline.
Estimating ice-out will occur the first 10 days of April, guide Jason Feldner said the last time this occurred three years ago, he experienced a fantastic pre-spawn bite. "We pitched jigs and minnows or jigs with plastic wherever there were rocks. We loaded the boat day after day," he said. Some of those areas were road beds, gravel shorelines or the tops of humps. "Most of the Highway 19 and 281 shorelines are gravel. Use a hi-vis line to detect when the jig touches bottom or a fish snatches it," Feldner recommends.
Guide Mark Bry agrees with the early April ice-out prediction. "With little run-off, many walleyes will spawn on the main lake. The minimal current coming in will not draw them in masses upstream," he said. "Find them in rocky areas and cast to them." Frith said his models indicate about 25,000 to 50,000 acre feet coming into the lake compared to the 25-year average of 250,000 acre feet each spring.
Bry always checks the back bays that extend long distances from the main lake. With mud bottoms, they heat rapidly and water temps will play into fish locations, mainly because warmer water attracts the food walleyes love to eat. The three main spring game fish, walleyes, northern pike and white bass will all be together in the same areas, where he focuses on the one to four foot depths. "Wind produces current areas under bridges and are always good bets at ice-out," he said. He fishes jigs with Gulp! Alive and Berkley Ripple Shads, or small Shad Raps, Countdowns and Flicker Shads. "Make long casts and pause, jerk and twitch jigs or cranks to produce the most bites," he recommends.
Living on Devils Lake and gauging it's moods every day, guide and World Walleye Championship winner Johnnie Candle guesses mid-April or maybe a bit later for ice-out, but he will be out there right away. "The lack of run-off will be a big deal. The huge runs of fish to popular areas will not occur like normal," he predicted, but added, "The fishing will still be good, just in different areas."
Areas of current by bridges will produce. "But, as the water warms," Candle said, "The further you get from the main lake, the better the fishing. These shallow, dark-bottom bays demand swim baits like Berkley Ripple Shads on 1/4th ounce jigs. When the water's warmest, even on cold days, try a Flicker Shad – they can be dynamite, also." His common sense advice for Devils Lake anglers the first few weeks of season (and all-year for that matter), "Try not to lose every lure in your box to pike, so consider using a wire leader. Besides, some of those pike will really stretch your line and add a lot of excitement to a day of chasing walleyes."
Mother Nature has her way with Devils Lake Frith explained, and after 20 years or more of being in a wet cycle with rising water, evaporation and outlet pumps dropped the lake level 18 inches last year. "At ice-out, the pumps will be cranked up again," he said. "This is shaping up to be another very good year around Devils Lake," the water manager and walleye fisherman said.
Go to devilslakend.com for up-to-date news about lake conditions, fishing reports, lodging, family activities and to contact fishing guides, or call 701-662-4903. The season is open year-round with some of the best fishing very early. Consider entering the 39th annual Devils Lake Chamber Fishing Tournament on June 26-28, with cash awards and over $58,000 in total prizes for walleyes, pike, white bass and perch.
Photos for story (click on the hyperlink in the captions to download)
Jay Hagen, fishing with Johnnie Candle, with a nice walleye on Devils Lake
A client of Johnnie Candle's with a nice 26" walleye on Devils Lake