DIGITAL SUBSCRIPTION LOG IN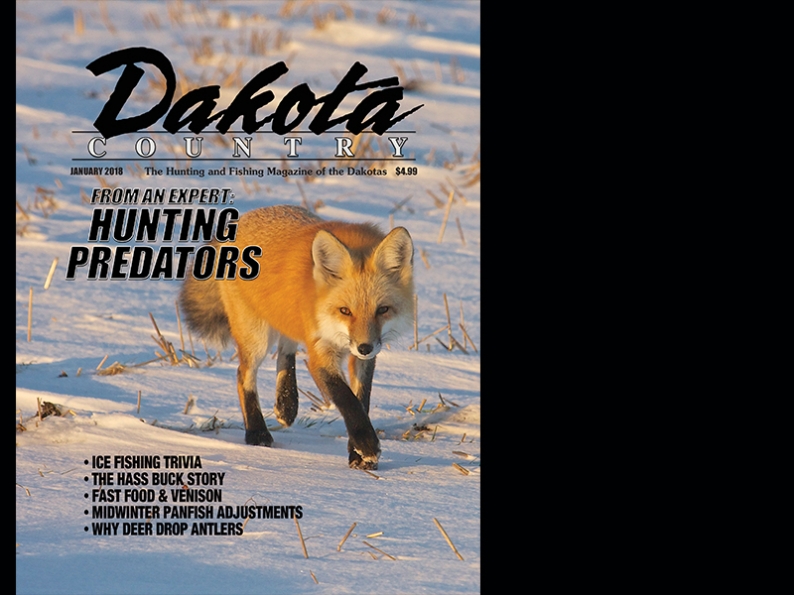 January 2018 Edition
by Jon Mitzel
Here's a light peak into the January 2018 Edition... Call 1-800-767-5082 or (701) 255-3031 and start your subscription today!
Features:
The Dream Buck by Kyle Hass
Mid-Winter Ice Fishing Adjustments by Jason Mitchell
Whe Deer Shed Antlers by Dana Rogers
Fast Food Industry is Co-Opting Venison by Brian Sexton
Dakota Fall Salmon Egg Summary
Ice Fishing Trivia
Locating Winter Coyotes by Jamie P. Olson
Ice Fishing Update by DC Staff Report
Fishing Cliff Lake, Ontario by Bill Mitzel
Editorial by Jon Mitzel: Time to Hit the Ice
Columnists:
Bill Antonides: The Land of 10,000 Signs
Jason Mitchell: Lake Trout: Ultimate Fishing
John Pollman: The Season that Wasn't
SD Glacial Lakes Report by Brian Blackwell: Lifeline of the James River
Missouri River Update: Winter Releases Set for System
Dell Hankey: Meaty Delights
Prairie Recall: January 1995: ND Trout and Salmon Rules Change
Badlands Watch by Jim Fuglie: Establishing Wild Turkeys in North Dakota
Look Who's Talking
Dakota Digest
Gadget Corner by Mort Bank: Ice Fishing Fun
AND MUCH MORE!