DIGITAL SUBSCRIPTION LOG IN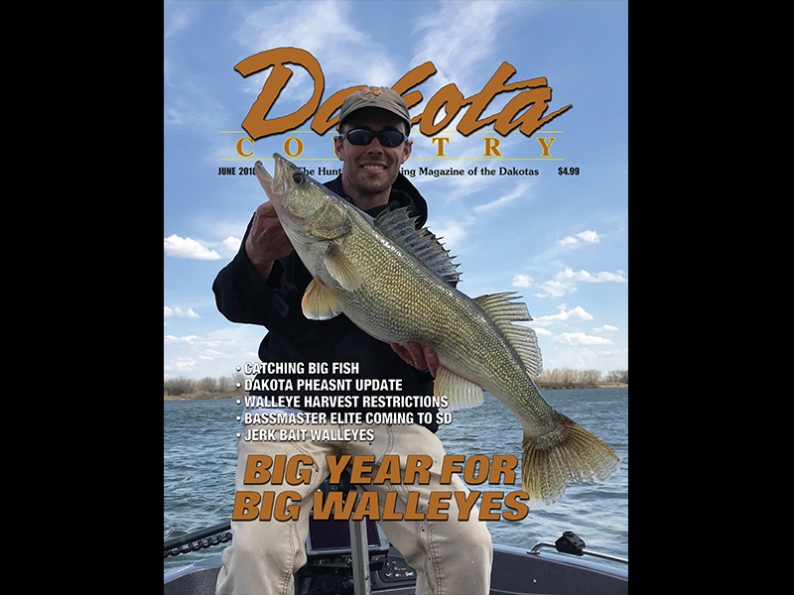 June 2018 Edition Dakota Country Magazine
by Jon Mitzel
Have The Hunting & Fishing Magazine of the Dakotas delivered! Call (701) 255-3031 and start your subscription today!
Here's a light look in the June 2018 Edition...
June 2018 Edition
Editorial by Jon Mitzel: Love June Fishing
Columnists:
Bill Antonides: A Place to Fish
Jason Mitchel: Hunting and Fishing Traditions
John Pollman: From Father to Son and Back Again
South Dakota Glacial Lakes Reports:
The Ups and Downs of taking fish eggs by Brian Blackwell Fisheries Biologist Websiter, South Dakota
Missouri River Update:
Spring Runoff Still Going Up...
Recipes:
Dell Hankey Tongue-Tied Recipes
Prairie Recall: June 1995... Fisheries Crews Wind Up Egg-Taking
Jim Fuglie: Lawsuite threatens National Grasslands
Look Who's Talking...
Dakota Digest...
Gadget Corner by Mort Bank... Today's Fish Finders
Features:
Big Walleye Evident on Missouri River by Dakota Country Staff Report
Dakotas Hopefull for a better pheasant reproductive season by Dakota Country Staff Report
Catching Big Fish by Dakota Country Staff Report
Bassmaster Elite Series coming to Lake Oahe near Pierre
Fishing the Panama Mothership by Chuck Dieter
Jerk-Bait Walleyes by Jason Mitchell
Don't Feed the Mosquitoes...
Big Walleyes Captured during South Dakota Spawn
Moose Opportunities by Patricia Stockdill
2017 North Dakota Big Game Harvest Report
The Beer Metaphor Helps Explain Habitat Mitigation by Ed Arnett
ND Deer Season Set, Online Apps Available by NDGFD
American Heroes by David Morse
Dakota Country Notebook by Bill Mitzel
New Plan Aims to Reverse Monarch Butterfly Decline
New Products...
ND/SD Whopper Reports...
Prairie Portraits...
Trading Post...
Letters from the Prairie...
Last Cast...
Wit & Wisdom of the Great Outdoors by Jerry Wilber
AND MUCH, MUCH MORE!!!