DIGITAL SUBSCRIPTION LOG IN

NDGFD Advisory Board Meeting Schedule
by NDGFD
Created in the 1960s the North Dakota Game and Fish Advisory Board is made up of eight members, four landowners and four hunter/anglers. Board members serve as liaisons between the department and the North Dakota public. Bi-annual meetings are held in each of eight districts giving citizens an opportunity to discuss fish and wildlife related issues.
Spring 2015 Meeting Schedule
Note: Any person who requires an auxiliary aid or service must notify the contact person at least five days prior to the scheduled meeting date.
District 3 – Counties: Benson, Cavalier, Eddy, Ramsey, Rolette and Towner
Date: March 30 – 7 p.m.
Location: Chautauqua Room, Lake Region State College, Devils Lake
Host: Lake Region Pheasants Forever
Contact and advisory board member: Tom Rost, Devils Lake, 662-8620
District 8 – Counties: Adams, Billings, Bowman, Dunn, Golden Valley, Hettinger, Slope and Stark
Date: March 30 – 7 p.m.
Location: St. John Lutheran Church, Dickinson
Host: Boy Scout Troop 32
Contact: Richard Stradling, 483-0019
Advisory board member: Dwight Hecker, Fairfield, 575-4952
District 1 – Counties: Divide, McKenzie and Williams
Date: March 31 – 7 p.m.
Location: Broadway Commons, Williston
Host: Upper Missouri United Sportsmen
Contact: Wayne Aberle, 770-6902
Advisory board member: Jason Leiseth, Arnegard, 586-3714
District 6 – Counties: Barnes, Dickey, Foster, Griggs, Logan, LaMoure, McIntosh, Stutsman and Wells
Date: March 31 – 7 p.m.
Location: VFW Club, Valley City
Host: Barnes County Wildlife Federation
Contact: Perry Kapaun, 490-1797
Advisory board member: Joel Christoferson, Litchville, 973-4981
District 4 – Counties: Grand Forks, Nelson, Pembina and Walsh
Date: April 6 – 7 p.m.
Location: Memorial Union, University of North Dakota, Grand Forks
Host: UND Chapter of Wildlife Society
Contact: Marty Egeland, 739-6982
Advisory board member: Vacant
District 5 – Counties: Cass, Ransom, Richland, Sargent, Steele and Traill
Date: April 6 – 7 p.m.
Location: City Hall, Casselton
Host: Cass County Wildlife Club
Contact: Doug Madsen, 238-3087
Advisory board member: Duane Hanson, West Fargo, 367-4249
District 2 – Counties: Bottineau, Burke, McHenry, Mountrail, Pierce, Renville and Ward
Date: April 7 – 7 p.m.
Location: Verendrye Electric Cooperative, Velva
Host: Velva Sportsmen's Club
Contact: Wade Howe, 626-1055
Advisory board member: Robert Gjellstad, Voltaire, 338-2281
District 7 – Counties: Burleigh, Emmons, Grant, Kidder, McLean, Mercer, Morton, Oliver, Sheridan and Sioux
Date: April 7 – 7 p.m.
Location: Civic Auditorium, Garrison
Host: Garrison Chapter of Pheasants Forever
Contact: Pat Stockdill, 337-5462
Advisory board member: Dave Nehring, Bismarck, 214-3184
District Map
Click on image to view a larger map.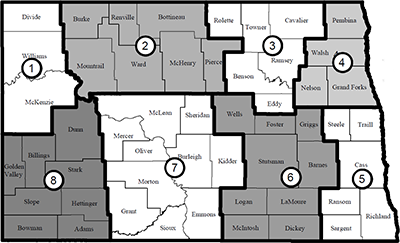 More Information