DIGITAL SUBSCRIPTION LOG IN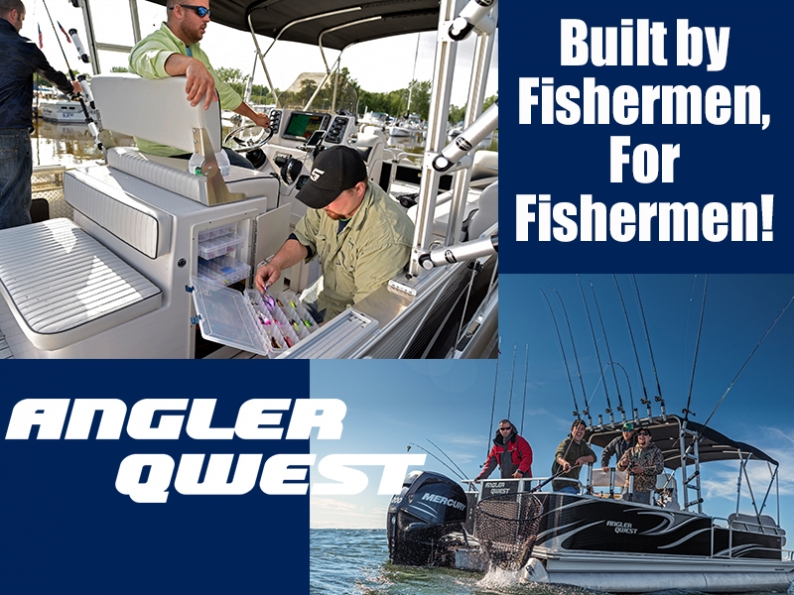 New... Angler Qwest Pontoons!
by DC Magazine Staff
Angler Qwest Troll Series Offers Six Models……
Nearly limitless custom options and floor plans
While Angler Qwest pontoons are great for taking out friends and family all at once, for a sunset cruise, don't let the pontoons fool you- these rigs fish! The boats are available to target several species, including the Troll series, that comes in six models from the 820 series, that has a max horsepower rating of 90, all the way to the massive 824 model tri-tube, that sports an aircraft carrier-like eight-foot x 23-foot deck size, with up to a 250-horse power outboard.
Anglers no longer have to settle if they want a rig that is family-friendly but can also take on rough weather while trolling the Great Lakes. Brad Dupuie, Angler Qwest Product Manager, said that the brand was built because the industry was lacking a pontoon boat that fished as well as it cruised.
"Angler Qwest was born because we wanted to build a rig that diehard anglers, maybe even professional tournament anglers, could fish in with confidence with all the features they were used to, but could also take the family out on to fish or simply cruise, in total comfort."
At the helm, anglers will appreciate the state of the art fiberglass center console that accommodates today's large sonar screens, as well as a custom gauge panel with tachometer volt gauge, and 10-switch rocker panel. A large storage compartment is handy, and a five spoke stainless steel steering wheel, exudes the quality that is hand-built into every Angler Qwest model.
While there are a ton of awesome interior features like a deluxe Captain's seat, and rear facing upholstered storage bench- what REALLY sets the boat apart is the exclusive Binary Rear Wall System.
"This system allows anglers to customize every boat," Dupuie said. "Anglers can mount rod holders, drink holders, and even down riggers anywhere they see fit. The system allows for a taller railing for comfort and safety and several storage options."
Even more seating is seen in two, 45-inch front bench seats on the 820 series (up to 70-inches on the 824 Pro), plus front layback seats and storage. Several rod holder assemblies are available depending on the model that suits your specific needs.
As for the exterior and hardware, quality is seen throughout each model from the double Bimini top system, rigid dent resistant panels, robust aluminum rear entry ladder, and either a durable vinyl deck or full teak flooring.
"The options are nearly endless depending on what someone needs," Dupuie said. "If you don't need our Infinity Stereo system then why pay for it? If you'd like our exclusive Radar Arch that allows eight additional Rocket launcher style rods holders, go ahead and get rigged up. You can have as many options as you like, unlike the pre-rigged packages that other manufacturers offer."
When it comes decide on what to put on the business end of the Angler Qwest, the motor is determined by the manufacturer YOU want to see powering your rig.
"We can put on a Mercury, Suzuki, Yamaha, Evinrude, Honda- whatever you want," he said. "Many boats are limited to running the motor that the parent company of the boat is part of- with us, you run what you want, for your type of boating or fishing needs."
The above represents a fraction of all that can be done to an Angler Qwest pontoon that make them the best fishing, and pleasure boat, ever to take float.
Anglerqwestpontoons.com