DIGITAL SUBSCRIPTION LOG IN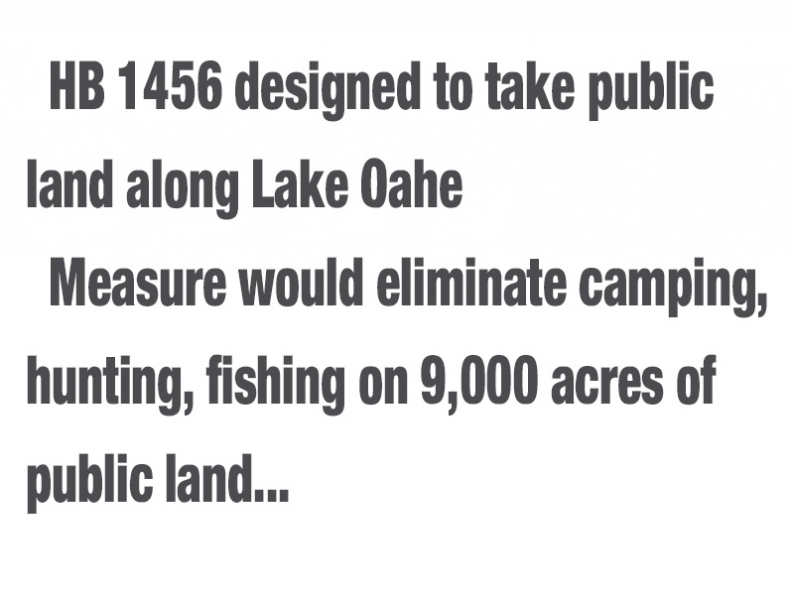 North Dakota HB 1456
by DC Staff Report
HB 1456 Federal legislation encouraged to return lands and mineral rights to the state of North Dakota.
Uplands of the Oahe Reservoir in Emmons and Morton Counties in North Dakota above the elevation of
1,620 feet (493.78 meters) are defined as excess lands to the operation of the Oahe Dam.
The North Dakota legislative assembly encourages Congress to pass federal legislation to return those lands
and mineral rights to the state of North Dakota and the North Dakota legislative assembly encourages the
governor of North Dakota to work with the North Dakota congressional delegation and Congress to secure
enactment of necessary federal legislation.
The above measure, constructed by the North Dakota legislature and signed by Gov. Jack Dalrymple, has aroused the ire of sportsmen and women. A proposed land transfer of more than 9,000 acres presently owned by the Corps of Engineers in Morton and Emmons counties would return land above 1620 feet back to original owners, and would impact sportsmen's areas, including WMAs, boat ramps, shooting ranges and otherwise public hunting and camping land.
HB 1456 was brought through the 2015 legislature by Rep. Jim Schmidt (Mandan), who stands to benefit by having 300 acres of original land returned, part of a North Dakota Game and Fish Wildlife Game Management Area. The bill was never made transparent to the public, and is being further pushed by Gov. Dalrymple. The bill needs federal authorization and has aroused the curiosity of U.S. Sen. John Hoeven, who had asked for more information.
Former Game and Fish Dept. Wildlife Division Chief, Randy Kreil, said without Hoeven's interest, the measure would have already made progress in the U.S. Capitol.
"This is an important issue that was going under the cover of darkness," Kreil said. "Thankfully, Hoeven's office started asking around. Without that, it would have progressed further."
The process actually began ion 2004 when Schimdt called the Game and Fish Department and asked how to get property back along Lake Oahe. His family owns land in the popular Graner Bottoms and Schmidt Bottoms areas south of Mandan.
"They haven't shared any information on this," Kreil continued. "There's been no transparency. This needs to be stopped."
The North Dakota Bowhunters Association is also urging sportsmen statewide to get involved and call the governor's office.
"Some may think 'it's not my worry, I don't live there or hunt there', but all sportsmen around our state need to step up and voice opinions," said a recent statement from the bowhunters. "Our outdoor opportunities are constantly being questioned and it's time for people to stand up for the outdoor privileges we enjoy."
Kreil urges people to contact the governor's office, especially by phone at (701) 328-2200, and also by email at: governor.nd.gov/contact-us. Sen. Hoeven can be contacted by phone at his Bismarck office, (701) 250-4618 or email at: www.hoeven.senate.gov/contact/email-the-senator. •