DIGITAL SUBSCRIPTION LOG IN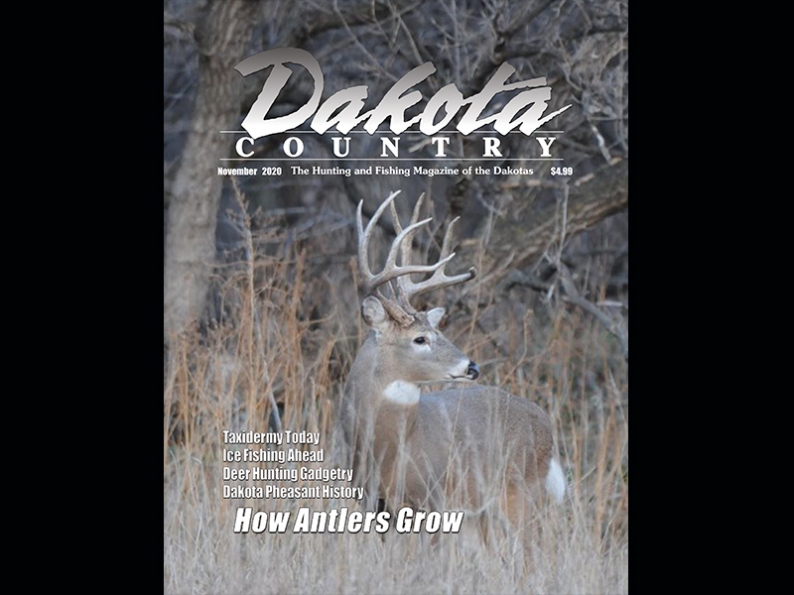 November 2020 Edition
by DC
CHRISTMAS GIFT SUBSCRIPTIONS SPECIALLY PRICED!
1-Year, 10 big issues... Including the April Spring Special Fishing Edition and the September Fall Edition... Only $22...
PLUS, we'll send your Giftee an attravitice Christmas Gift Card announcing their gift... signed per your instructions.
November 2020 Edition
Features
How Antlers Grow
The Life of a Taxidermist by Bill Mitzel
Hunting Land by Doug Leier
Deer Hunting Gadgetry by Jason Zins
Abundant Prairie Water by Rich Bohn
Dakota Pheasant History
Wainting for Ice
Cold Weather Fishing by Bill Mitzel
2020 Fishing Summary
Mis-Adventures in the Goose Field by Chuck Dieter
Diary of an Antelope Hunt by Jon Mitzel
Fall Safety
The westward movement in America by Jonathan Thompson
Columnists
Time to slip into the Deer Woods by Jon Mitzel
Large Deer and Long-Spurred Roosters by Bill Antonidies
Deer Huntin Days of Glory by Jason Mitchell
Perfectly Imperfect by John Pollman
Target Markets by Nick Simonson
Departments
South Dakota Glacial Lakes Report; Proper Catch and Release by Brian Blackwell, Fisheries Biologist, Webster, SD
Missouri River Monthly Report by USACE
Recipes by Dell Hankey... Pheasants in the Bag
Dakota Recall - A Look Back to November, 1995; Popular Canada Water Produces Record Walleye
Badlands Watch - A tale of two bridges by Jim Fuglie
Look Who's Talking
Dakota Digest
Gadget Corner; More new fishing products from ICAST by Mort Bank
Dakota Country Notebook; Adventures Lost Becuase of Covid-19 by Bill Mitzel
New Products
ND/SD Whopper / Catch and Release Report
Classifieds
A Final Though; Close Calls by Terry Terrill
Last Cast and Much More!