DIGITAL SUBSCRIPTION LOG IN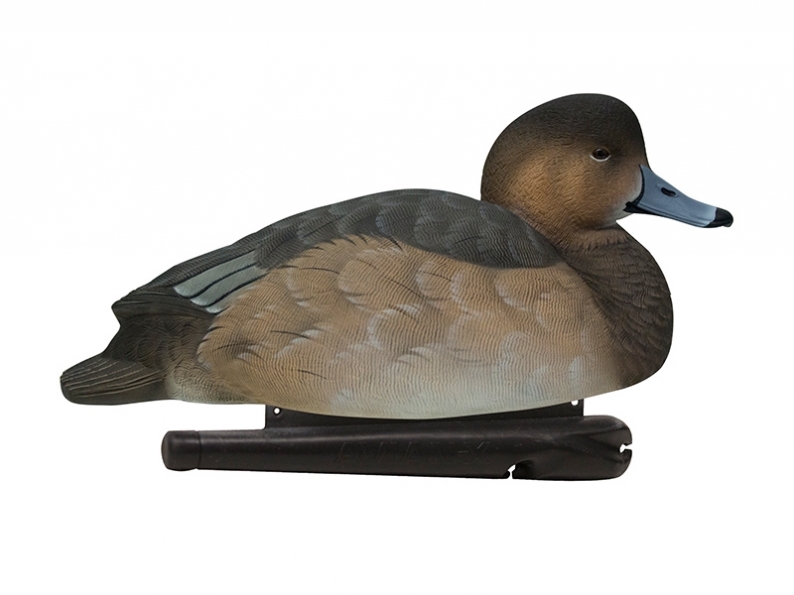 Redheads Done Right
by Traditions Media
Redheads now available in Avian-X's hardworking and highly realistic Topflight line of waterfowl decoys
Port Clinton, OH (September 20, 2016) – He's broad, stout, and capable of buzzing your spread at 80 mph. If he's passing at 90-degrees, you'd better give him a good lead.
The redhead is the energetic brawler of the waterfowl world. Seen in the hundreds and even thousands at certain staging areas along its migration, the mallard-sized redhead can often be found communing with bluebills, ringnecks and other diving species throughout its range.
The tasty redhead drake's striking good looks and athletic flying ability make him a welcome addition to any waterfowler's daily bag. The trick is convincing him and his buddies to lock-up, drop the landing gear and commit to a spread of decoys. Don't shoot until you see the gold of their eyes!
Of course, Avian-X can help.
One of three new diving duck additions to Avian-X's popular, custom-style-painted Topflight decoy line, NEW Avian-X Topflight Redheads combine natural and welcoming poses, highly detailed paint schemes and innovative weight-forward swim keel designs to produce incredible realism on the water. As with other Topflight decoys, Avian-X uses an advanced rubberized molding material and non-chip paint to make sure these great looking decoys hold up and provide positive results for many seasons.
Molded from originals carved by world champion carver, Rick Johannsen, Avian-X Topflight Redheads are sold in a Six-Pack consisting of two High Head Drakes, two High Head Hens, one Sleeper Drake and one Sleeper Hen, a carefully conceived mix of natural and realistic poses that help convey safety and give the utmost confidence to approaching waterfowl. Topflight Redheads are slightly over-sized for enhanced visibility, measuring 15" breast to tail.
AVIAN-X TOPFLIGHT REDHEADS
• Model SKU No: 8089
• UPC: 81028080896
• 6 Pack includes two High Head Drakes, two High Head Hens, one Sleeper Drake and one Sleeper Hen
• Decoy bodies are slightly over-sized for enhanced visibility, measuring 15"L x 8"W x 8"H
• Carved by world champion carver Rick Johannsen
• True-to-life paint schemes
• Weight-forward swim keel design allows decoys to ride true in rough water
• Advanced rubberized molding material
• Non-chip paint
• MSRP: $79.99
Along with Bluebills and Canvasbacks, Avian-X's Redheads are one of three new diving duck additions to the hunter-preferred Topflight line of high-quality and ultra-realistic waterfowl decoys in 2016. Whether you're building a new open water spread or simply looking to mix in some additional diversity, you won't be disappointed in the top-flight quality, top-flight detail or top-flight performance of Avian-X's new Topflight Redheads.
About Zink and Avian-X
The premier Zink and Avian-X brands offer today's waterfowl and turkey hunters the best and most complete line highly realistic decoys, beautifully effective calls and other related products that result in increased success and satisfaction afield — whether that means more birds on the ground, or the creation of additional cherished, lifetime memories. At Zink and Avian-X, our goal is to use our team's extensive field knowledge and experience to promote and advance the sports of waterfowling and turkey hunting in a traditional, ethical, responsible, and enjoyable manner. Mediocrity is not an option. Learn more at www.zinkcalls.com and www.avian-x.com.