DIGITAL SUBSCRIPTION LOG IN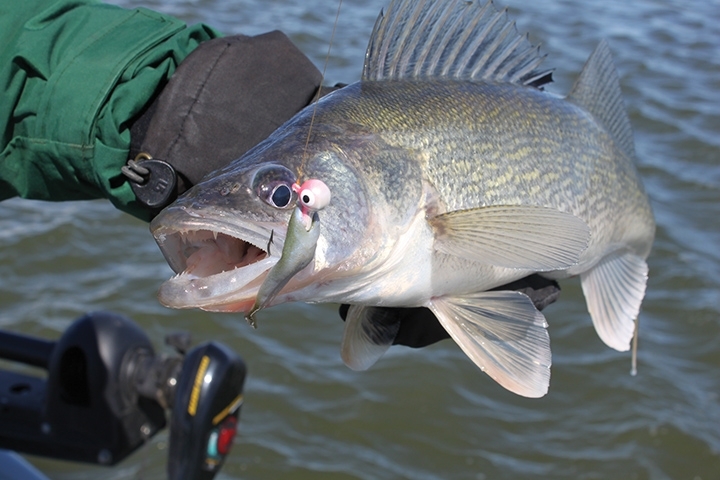 SD Missouri River Fishing Report May 18, 2015
By SD Missouri River Tourism
We needed moisture and we got it – with some areas getting rain and others getting snow. Yes, snow!! The weather is still very unstable, but fishing seems to be picking up on the river, but you will need to spend some time. Weather will play a large part in the fishing this coming week.
Have a happy and safe Memorial Day weekend! Remember to honor our veterans.
This week will see possibly additional rain, but will be warming by the end of the week. Spring fishing can be awesome, but every day brings a different set of conditions!
REMINDER: Check out the Game, Fish & Parks web site for detailed info on the new regulations designed to prevent movement of invasive species. You can trailer to fish cleaning stations nearest the boat ramp, but after that new regulations call for draining live wells and boats.
We suggest you call one of our members listed at the end of the report, to see what is happening with the weather before you venture up here. That way you'll be assured of a great trip!
Like us on Facebook – for up-to-date reports from our businesses and the area.
In the Pollock area, at Mobridge, and Akaska the water is warming up and that's a good sign for anglers. The temps over the weekend were not especially warm and there might be more rain coming in, so watch for that. Fish that are being caught are in 15-25 feet using jigs and minnows, bottom bouncers with minnows or crawlers. At Akaska there seems to be a few more fish, but not consistently yet. The area right around Mobridge seems to be the best right now.
At Gettysburg the weather also got colder over the weekend, and looks to stay that way for the week. Anglers are catching walleye in 10-30 feet using jigs and minnows. Getting out on the water due to the weather is hit and miss right now.
Around Spring Creek / Cow Creek and the Oahe Dam the water temps are approaching 50 degrees. Wind and rain kept most boats off the water this past weekend. Anglers are catching northern and catfish using smelt and slip bobbers in 2-5 feet of water. The bite on Oahe is going ok, especially when the weather is nice. Right now it's adequate, but not on fire..
Fishing on Lake Sharpe east of Pierre and Fort Pierre all the way down to West Bend is starting to go with some walleye limits coming in along with some smallmouth bass. Anglers at West Bend on Lake Sharpe are using bottom bouncers with minnows, with some pulling flicker shad plugs. in around 5-7 feet of water. Catfish and northern are being caught in around 2-5 feet in the back bays. Pitching or dragging jigs is the best choice but bottom bouncers with minnows work for others and crawlers will come in to play soon. The Bad River by Fort Pierre will be putting out some muddy water so you will need to fish from the Bad up to the Oahe Dam or down around West Bend. Water temps are in the low 50s.
Around Chamberlain , fishing is good on days that the current is running consistently from the Big Bend Dam. With the rain this past week the fishing has been good. From Dock 44 by Snake Creek up to Crow Creek by Chamberlain the bite has been good. Some anglers are using night crawlers, others are using bottom bouncers and some are pulling plugs – seems to be whatever the anglers prefer right now. Pitching to the bluffs has been good. Not always dynamic, but they are catching fish. North of Chamberlain at Crow Creek the bite is good, especially since that area is closer to the Dam. With the heavy rain this weekend and the snow and rain in the Black Hills, the run- off will cause some muddy conditions around the mouth of the White River and possibly Crow Creek also. It usually takes about 10 days for the water to clear. If you can find clear water the fishing should be good. Some good size fish are being caught and they are looking good.
In the Platte area it's picking up also. With the warmer weather coming in the fishing is starting here too. The weekend was coo; and rainy. All areas along the river are receiving rain – and it has been welcomed. Again, muddy water could be an issue for a few days. Bait is jig and minnow in 5-25 feet and the bays seem to be the best. Some anglers are pulling plugs.
At the Pickstown - Wagner – Lake Andes they are catching fish below the dam. A lot of little ones, but they are catching fish. Fishing on Francis Case over the weekend was fair, considering the weather. Anglers are catching fish in 15-25 feet using minnows and bottom bouncers. About 50% of the boats are limiting out. From Pease Creek to Whetstone the bite has been really good. They are also catching Smallmouth Bass along with the walleye.
On the Missouri River around Yankton fishing is improving and shore fisherman are catching walleye, catfish, and northern below the dam. Boat fishermen are catching walleye, catfish and northern using jigs and minnows in the fast water.
*Please remember that the fishing conditions on the Missouri River change constantly and this report is simply a guideline – a snapshot in time.*
For more information and up-to-the-minute reports on fishing Lake Oahe, please call West Pollock Resort, 605-889-2448; Kemnitz MoRest Motel in Mobridge at 605-845-3668. At Akaska call Akaska Bait Shop at 605-649-7847. Call Bob's Resort at 605-765-2500 or South Whitlock Resort at 605-765-9762 in Gettysburg. On Oahe and Sharpe call Hutch's Guide Service at 605-22404755. On Lake Francis Case, contact Dakota Prairie Guide Service at 605-680-1910 or Platte Chamber of Commerce at 888-297-8175 and Circle H Motel in Lake Andes at 605-487-7652.