DIGITAL SUBSCRIPTION LOG IN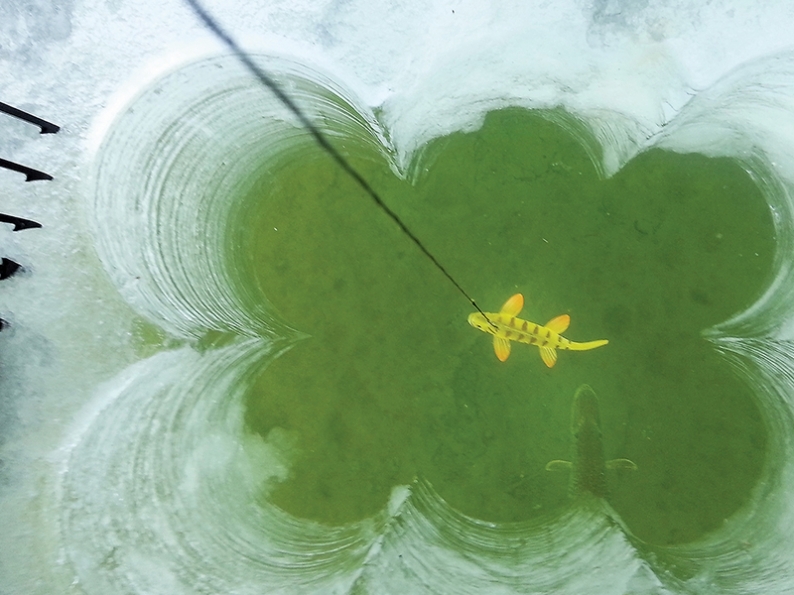 The Fun of Spearfishing
by Doug Leier NDGFD
It's transition time for outdoor activities.
I felt it the last week of deer season as rain turned to snow, and wind blew out the extended fall and brought in more "normal" temperatures.
When that happens, it doesn't take long for serious ice to start forming on small sloughs, ponds and lakes, when the daily high temperature is below freezing. While the transition this year wasn't as dramatic as last year when some folks were already starting ice fishing by the last weekend of deer season, the chatter is still turning from fall hunting seasons to hard water fishing and spearing.
Dec. 1 was the spearfishing opener in North Dakota, but across the state from small ponds to large reservoirs, just because it's open season doesn't guarantee safe ice. So before you get too excited about ice fishing or spearing, please check local ice conditions.
You'll also need to get registered to spearfish. Everyone who spears in North Dakota needs to register before participating, even those under age 16 who do not need a fishing license. Registration is available on the North Dakota Game and Fish Department website, gf.nd.gov, or through any Game and Fish Department office.
Darkhouse spearfishing has gradually gained popularity since it was first authorized in 2001. At that time only a few waters were open and fewer than 1,000 people participated. As fisheries managers collected more data, they gradually expanded the available options for spearing, and more anglers became interested.
Over the years more waters were added, and last year a combination of strong pike numbers in many lakes, open access because of little snow, and expanded opportunities accounted for record participation.
2014-2015
highlights
• A record number 3,339 individuals registered (2,662 residents, 462 nonresidents).
• Average spearer was 44.6 years old, and 88 percent were male.
• 79 percent of those registered indicated they did actually darkhouse spearfish -- the highest on record.
• About 76 of spearing registrants indicated they also fished in open water, and 77 percent said they also ice-fished with rod and reel.
• Total pike harvest by spearers last winter was a record, 23 percent higher than the previous record set in 2012-13.
• As reported from a participation survey, spearing took place in 90 water bodies statewide. Lake Sakakawea continues to be tops in terms of pike harvest. The top three lakes (Sakakawea, Buffalo Lodge and Devils Lake) accounted for 44 percent of the statewide harvest, and the top 9 lakes accounted for nearly 75 percent of the harvest.
• Median and mean weights of the largest pike reported harvested were 8.0 and 8.3 pounds respectively. This continued a trend of slightly higher pike weights the past few years. The lowest on record was 4.0 and 4.7 pounds respectively in 2009-10.
• Few respondents continue to report harvesting big pike. About 2.9 percent of survey respondents indicated the largest pike they harvested was 20 pounds or larger. This compares to the record of about 7 percent over 20 pounds during the winters of 2005-06 and 2006-07.
This year, all North Dakota waters open to hook and line fishing are also open to darkhouse spearfishing, with the following exceptions:
• Braun Lake – Logan County
• East Park Lake, West Park Lake, Lake Audubon – McLean County
• Heckers Lake – Sheridan County
• McClusky Canal
• New Johns Lake – Burleigh County
• Red Willow Lake – Griggs County
• Sweet Briar Dam – Morton County
For more information on spearing or ice fishing regulations, consult the current fishing guide, or the Game and Fish Department website. •