DIGITAL SUBSCRIPTION LOG IN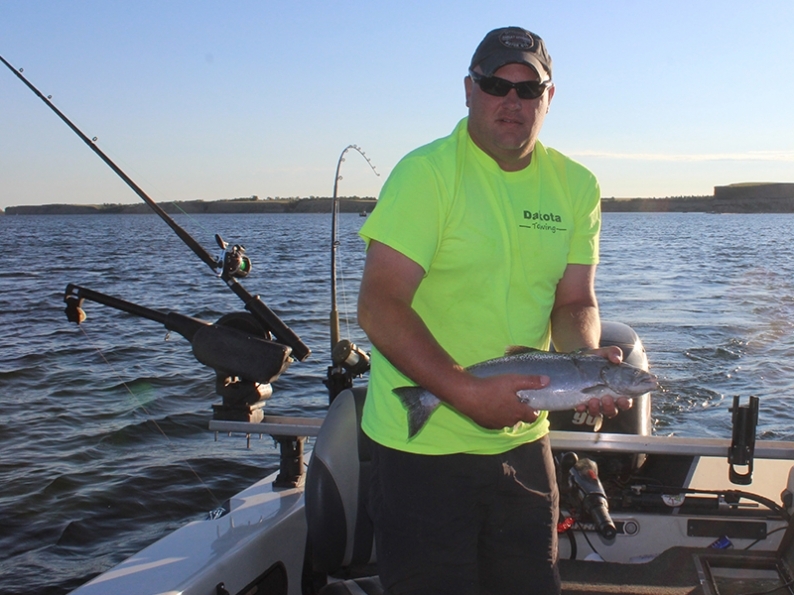 Lake Sakakawea Chinook Salmon Report
by Jon Mitzel
Salmon Anglers have already begun fishing the cool, deep waters of Lake Sakakawea in search of Chinook Salmon... and the salmon fishing so far hasn't been all that bad. There's surely fish being caught...
On a recent trip to Lake Sakakawea this past Tuesday we boated one 9 pounder and lost two others. We did also manage to catch three pound northern pike on a spoon in 75 feet of water... my deepest pike ever taken!
Salmon are active with noticeable feeding times around 9 till noon. Some anglers get off the water around noon to escape the days heat, but when the fishing is good, you might be rewarded when staying out on the water a bit longer.
We're using a combination of small flashers with squids and needlefish and spoons. This past Tuesday morning we started with a blue flasher and blue squid and a chrome flasher on a watermelon colored squid. Both have produced fish for us this summer.
As far as spoons, the Northern King Salmon Spoons are producing fish, too. We took a Chinook on a watermelon colored spoon at 3.7 mph... just about a full mph faster than what we're pulling the flashers and soft baits.
This weekend, we'll be focusing our salmon fishing efforts in that 65 to 105 feet of water over deeper water say 120 or 140 feet. We'll start off by using what we've caught salmon on so far this season... Year after year it seems like blue on blue and white on white always produce a good percentage of the fish. Pink can be a good color, too, but we've had our best results with pink in the fall and certainly isn't my first color choice so far this season...
I think if a guy gets out there early say 630ish and fished till 11 or noon his chances of hooking a chinook are good right now.
There's been reports of guys catching fish on salmon fly's, too, pulled by a short leader to a flasher. This past Tuesday, after we caught our first fish and watch 7 others caught, we decided to switch colors... we tried blue on blue, white on white, green on green and watermellon... We did hook into two more fish that got off. So flashers and squids down 80 or 85 feet are working right now.
We'll keep you updated here on K-FYR with more salmon reports as the season progresses. And you can always contact Scott Hobbs at Scott's Bait and Tackle in Pick City for an updated daily fishing report... Scott will tell you what's going on out on the water...
Until next time, we hope to see on the water!