DIGITAL SUBSCRIPTION LOG IN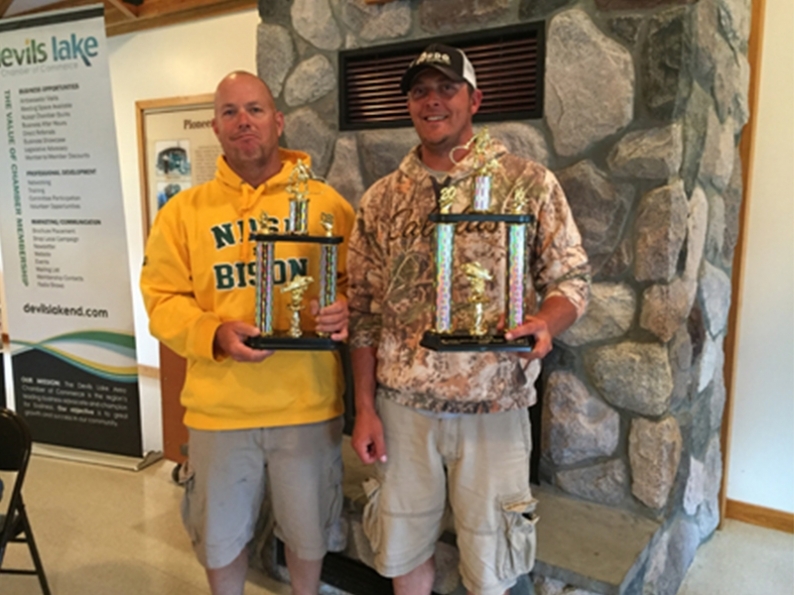 40th Annual Devils Lake Chamber Tournament Winners Share Secrets
By: Devils Lake Convention & Visitors Bureau
With fishing tournaments, the only "given" is that things will change. At the 40th annual Devils Lake Chamber walleye tournament, June 24-25, the difference maker was Mother Nature. She forced a few adjustments to make the tournament safe for all 114 teams.
With forecasts of strong winds, tournament director Johnnie Candle and the committee along with the consensus of long-time participants, decided to start the first day early (and end early), and then cancelled the second day. Candle said, "The forecast for day two was sustained 25 mph winds by mid-morning, with gusts over 30 mph." The Chamber tournament is primarily a fun event with boats from 16-feet to 21-feet, with many young participants and 17 couples. "We are attracting a cross-section of anglers, many with smaller boats, and they will all live to fish another day" he said.
The $60,000 in prizes were awarded to successful fishermen on day one, and the balance distributed by draw. First place went to Eric Hanson, Lisbon, ND and Virgil Nogowski, Gwinner, ND. They earned $5,000 for 24.81 pounds. This was the first year the Raymac steel fabricator co-workers fished the event. Hanson finished second with his father a couple years ago.
They targeted shallow (3 to 5 feet) weeds in Pelican Bay casting Rapala Esko crankbaits. "The big advantage was starting earlier. We caught the fish super shallow," Hanson said. They had their five fish limit at 8 a.m., and with no culling, their fish came in the right order. "Everything went just right; we didn't lose a fish," the winner said. Interestingly, three weeks ago he landed nearly 200 pike in the same area. A week ago, he had 40 in the same area. On tournament day, he and Nogowski only caught two pike. Addressing the day two cancellation, Hanson said, "I appreciate that the organizers looked out for the anglers."
The second place anglers are familiar with the winner's circle. Mike Kaderlik, Mankato, MN, and son Jarvis, Bismarck, ND, were three pounds back with 21.27 pounds. They won last year in the same 16-foot refurbished aluminum boat with a 60-hp outboard. The senior Kaderlik admitted, "It may be the slowest boat in the tournament." Last year they landed 200 walleyes over two days. This year, they caught only six in the same area. They used floating jointed Rapalas, Rattlin' Raps and Husky Jerks. Fishing 5 to 12 feet, in Pelican Bay, Mike said, "The wind was terrible. It took 90 minutes to get there, and we were bouncing across the lake more than casting."
The third place team, father and son Don and Jacob Denning, Fargo, ND, weighed 20.98 pounds, also in Pelican Bay. "First of all, it's best to be safe," Don said although he mentioned they might have won. Then re-considered, and said they also might have been 30th. With no pre-fishing, the team followed the wind and their instincts, starting out in weeds where Don fished as an amateur with pro Tommy Skarlis in a major tournament years ago. With two fish in the boat, he said, "The action stopped, so Jacob motored to the rocks along the railroad tracks. Switching from Rapala Eskos to jigs with Walleye Assassin plastic, we cast right to the steep rocks, cranked the jig three times and let it fall. The bites came as soon as the jig touched bottom where the rocks ended and the soft bottom began," he said.
Big walleye, 7.33 pounds, was caught by Troy Goltz, Leonard, ND, and David Johnson, Kindred, ND. The biggest pike was landed by Garrett and Dan Bonham, Fargo, at 9.21 pounds. The largest white bass was 3.56 pounds for Dennis Nelson, Davenport, ND, and Tom Levos, Leonard, ND. Looking at the stats, the top seven teams all had 20-plus pounds. The top 20 teams all had more than 15 pounds, and the next 20 teams all had 12 to 15 pounds for their five walleyes. Two-thirds of the teams were from more than 30 miles away, as more anglers eye Devils Lake for their vacation trips.
The 40th Annual Chamber walleye tournament is in the books, but with an increased number of teams and a wide range of ages competing, the event continues to grow. Director Candle said, "There are a lot of young guys and gals learning from every Devils Lake tournament, and they're getting better every season."
Up to the minute fishing reports are on devilslakend.com. The website contains solid info about fishing guides, ramps, fish-cleaning stations, fishing conditions, events, resorts, lodging, restaurants and a helpful map. For personal assistance, call 701-662-4903, and talk to a friendly and knowledgeable North Dakotan.
2016 Winners
1st - $5000 =Eric Hanson & Virgil Nogowski....... 24.81 pounds
2nd - $3800 = Jarvis Kaderlik & Michael Kaderlik....... 21.27 pounds
3rd - $2100 = Don Denning & Jacob Denning....... 20.98 pounds
4th - $1900 = Trey Benson & Karl Kenner....... 20.34 pounds
5th - $1725 = Jay Hagen & Jon Becker....... 20.11 pounds
6th - $1500 =Troy Goltz & David Johnson....... 20.05 pounds
7th - $1300 = Aaron Joramo & Ryan Joramo ....... 19.7 pounds
8th - $1150 = Kurt Hodny & Jason Vasicheck....... 17.89 pounds
9th - $1000 = Francis Schumacher & Darwin Haugaard....... 17.62 pounds
10th - $800 = Jamie Lehmann & Michael Lehmann....... 17.58 pounds
11th - $625 = Travis Klein & Rick Frisch....... 17.48 pounds
12th - $600 = Mike Howard & John Howard....... 17.3 pounds
13th - $525 = Chad Haberstroh & Kelly Bakken....... 17.11 pounds
14th - $400 = Zach Schemionek & Garrett Schemionek....... 16.99 pounds
15th - $325 = Bruce Fritel & Darren Spaeth....... 16.5 pounds
16th - $300 = Alex Reslock & Tanner Paine....... 16.39 pounds
17th - $275 = Chase Freidig & David Remmen....... 15.62 pounds
18th - $275 = Geoffrey Blegen & Ben Jacobson....... 15.39 pounds
19th - $275= Devin Schwanke & Jeremy Wolf....... 15.31 pounds
20th - $275 = Cody Armstrong & Joe Armstrong....... 15.28 pounds
21st - Berkley Rods = Justin Henkels & Brandon Lee....... 14.72 pounds
22nd - Berkley Reels = Deric Erickson & Dale Boroos....... 14.66 pounds
23rd – Scheels $200 = Troy Sand & Chris Karlstad....... 14.64 pounds
24th - Scheels $200 = Kraig Gellner & Jared Ellingson....... 14.55 pounds
25th - Scheels $100 = Jeff Trana & Rick Darling....... 14.47 pounds
Largest Walleye ($500) Friday = Troy Goltz & David Johnson....... 7.33 pounds
Largest Walleye ($500) Saturday = Judd Frith & Ryan Muehler....... draw
Largest Northern ($250) Friday = Garrett Bonham & Dan Bonham....... 9.21 pounds
Largest Northern ($250) Saturday = Jon Dircks & Brent Hoerer....... draw
Largest W Bass ($100) Friday = Dennis Nelson & Tom Levos....... 3.56 pounds
Largest W Bass ($100) Saturday = Kurt Hodney & Jason Vasicheck....... draw
Largest Perch ($100) Friday = Jason Ramberg & Travis Clemmens....... draw
Largest Perch ($100) Saturday = Eric Hanson & Virgil Nogowski....... draw
Big Basket Award = Eric Hanson & Virgil Nogowski....... 24.81 pounds
Mixed Couple Award = Lonnie Jacobs & Janine Landsiedel....... 13.15 pounds
7th Place Real Estate 7 Award = Aaron Joramo & Ryan Joramo....... 19.7 pounds
75h Place Lake Region State College Award= Todd Keena & Everette Blaisdell....... 6.84 pounds
Sleeper Award = Curtis Havig & Jeff Johnson....... draw
Shocker Award = Gary Schnabel & Steve Kornkven....... draw
End of the Line Award = Greg Bogstad & Jean Bogstad....... 1.06 pounds

Northern Pike Shootout
3rd - $1150 = Adam Paulson & Dave Shaw....... draw
2nd - $690 = Adam Koch & Trevor Bolen....... draw
1st - $460 = Mark Slotto & Kris Rainsberry....... draw
___________________________________________________________________________________
Hyperlinks for Online Story
Online Story (click here for the online story)